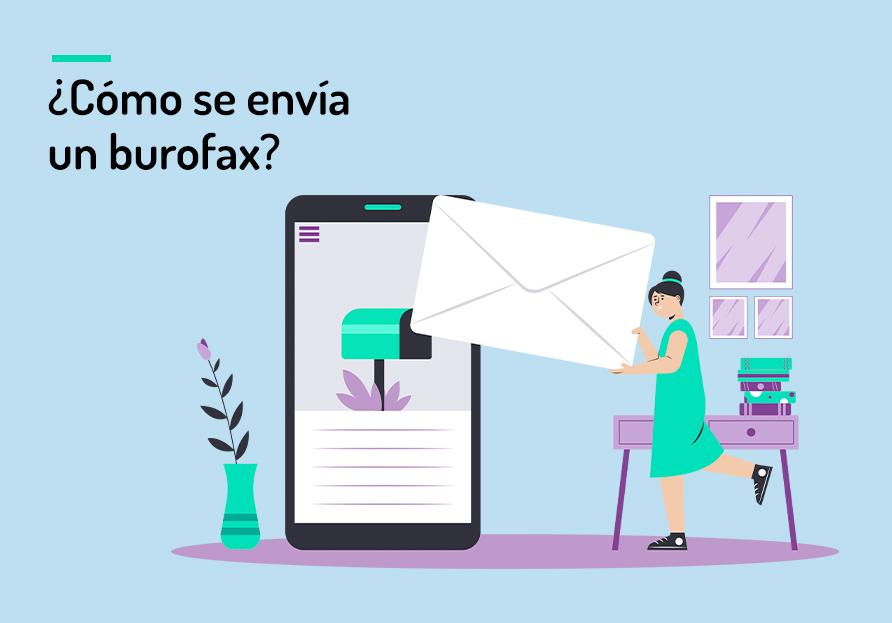 The burofax is a correspondence service that allows you to send documents urgently and accredit the sender, addressee and date of sending. In addition, its content can be reliably certified, which makes it a very useful tool in different legal and commercial situations. In this article you will discover how to send a burofax in a simple way and at the same time we solve some of the most common doubts.
The burofax has become a very popular option for sending important documents quickly and securely. Unlike other methods of correspondence, the bureaufax offers additional guarantees, such as proof of sending and certification of the contents.
There are several reasons why it is advisable to use a burofax in certain situations. Firstly, the bureaufax provides reliable proof that the document has been sent and received. This can be especially useful in cases where proof of delivery of certain documentation is required.
In addition, the bureaufax is a secure way to send important documents, since the date and time of sending, as well as the sender and recipient's data, are recorded. This provides greater security and avoids possible disputes over the delivery of documentation.
Why use the services of a specialized company to send a bureaufax?
Although it is possible to send a bureaufax on your own, in some cases it is advisable to use the services of specialized companies. A specialized company can make sure that the burofax complies with all legal requirements and has legal evidentiary validity in case of future legal actions.
In addition, he can advise you on how to draft the content of the burofax properly and what data should be included for it to have the desired effect.
The burofax can be used in various situations where important documentation needs to be sent in an urgent and certified manner. Some examples of when to use a burofax are:
Claiming debts: if you need to claim payment of a debt, the burofax is an effective way to document your claim and establish a deadline for payment.
Termination of contracts: if you wish to terminate a lease or other contract, sending a burofax can be a safe way to communicate your decision and ensure that the date of sending and receipt is recorded, as well as crediting the person receiving it.
Legal communications: in cases where it is necessary to communicate legally relevant information, such as the filing of a lawsuit or the notification of a settlement, the burofax is a suitable option.
What is needed to send a burofax?
When sending a burofax, it is important to include certain data so that it reaches all the legal and evidentiary validity. These are some of the data that must be present in a burofax:
Sender's data: full name, address and any additional information that may be relevant to identify the sender.
Recipient data: full name, address and any additional information necessary to identify the recipient.
Date and time of mailing: it is important that the bureaufax records the exact date and time of mailing.
Content of the bureaufax: the bureaufax must include in a clear and precise manner the content of the communication to be sent. This type of shipment, remember, allows you to certify the information and documents included.
Difference between a registered letter, fax and burofax
The burofax is often confused with other methods of registered correspondence, such as registered letters or faxes. However, there are important differences between them.
Registered letter: A registered letter is a form of correspondence sent through the postal services that requires a signature upon receipt. Although it provides certain guarantees, it does not have the same evidentiary validity as the bureaufax, since it does not record the exact date and time of sending nor does it certify the content.
Fax: faxing is a form of electronic communication that allows documents to be sent quickly. However, the fax does not have the same probative value as the bureaufax, since it does not prove the identity of the sender, does not record the date and time of sending and does not certify which person receives it.
Can a burofax be rejected?
In general, the addressee of a bureaufax cannot refuse to receive it. The bureaufax is considered delivered once it has been deposited at the address indicated by the sender.
If the addressee is not present at the time of delivery, a notice will be left so that he/she can pick it up at the corresponding office. If the sending is done through the online bureaufax service of the MailComms group, this will be a Correos office, as the distribution and delivery is carried out through the Spanish universal postal service. If you need more information, this article explains the consequences of not responding to a burofax.
How to send a burofax? If it is online, from anywhere, without complications.
Sending a burofax is a simple and convenient process thanks to our online burofax service. Below, we explain how you can send a burofax quickly and safely:
Send us the information, documents and shipping data through our secure channels.
We will print the documents and envelop them in our production center.
We will then place it in the Post Office for distribution to begin.
The online burofax with postal delivery is delivered to the address indicated.
In the event that it cannot be delivered, and after two attempts, it is stored at the post office and notification is left for collection.
If the online bureaufax is not delivered, it is returned to our processing center where it is destroyed in a secure manner.
And that's it! As you can see, you only need a few minutes to set up your online bureaufax. Moreover, in our case, with the added legal guarantee and reliability of being accredited as a qualified provider of trusted electronic services by the Ministry of Economic Affairs and Digital Transformation.